More brands are entering the beauty industry all the time, in large-part because small companies can work with outside manufacturers to make their beauty products. The accessibility of private label products and contract manufacturers means that with a thoughtful marketing plan and a targeted niche, it's easier to make a successful beauty brand than ever.
4 paths for manufacturing beauty products
There are 3 main ways that beauty products are produced: in-house, with a contract manufacturer, or private label.
In-house manufacturing
Large beauty companies manufacture many of their products in their own facilities. They have the bandwidth, budget, and company size that allows them to have complete control over their products and how they're made. This allows for larger profit margins and completely customized products.
Custom formula manufacturing
Custom formula manufacturing involves hiring a chemist to create a completely customized product in a lab owned by them or by a contract manufacturer. Some businesses also work with a chemist to create a formula which they bring to a contract manufacturer to produce for them. Custom formula manufacturers allow smaller companies to produce and sell unique products without owning their own manufacturing facilities.
Contract manufacturing
Many large beauty brands, as well as some smaller ones, contract with another manufacturer to create custom products by adding specific ingredients to existing formulas. By outsourcing the manufacturing process, large companies are able to offer a wider array of products without spending the overhead on their own manufacturing facilities. Smaller companies who don't have the budget to build their own lab use contract manufacturers to make unique products for them.
Private label manufacturing
Many retailers, salons, and small business owners choose to private label their products. This means they buy the products, already formulated, from a manufacturer, and then add their own labeling and marketing to those products. Private label is the reason stores like Target are able to sell their name brand products at a lower price point, and why smaller beauty companies are able to launch without gigantic budgets.
The pros and cons of private label, contract manufacturing, and custom formula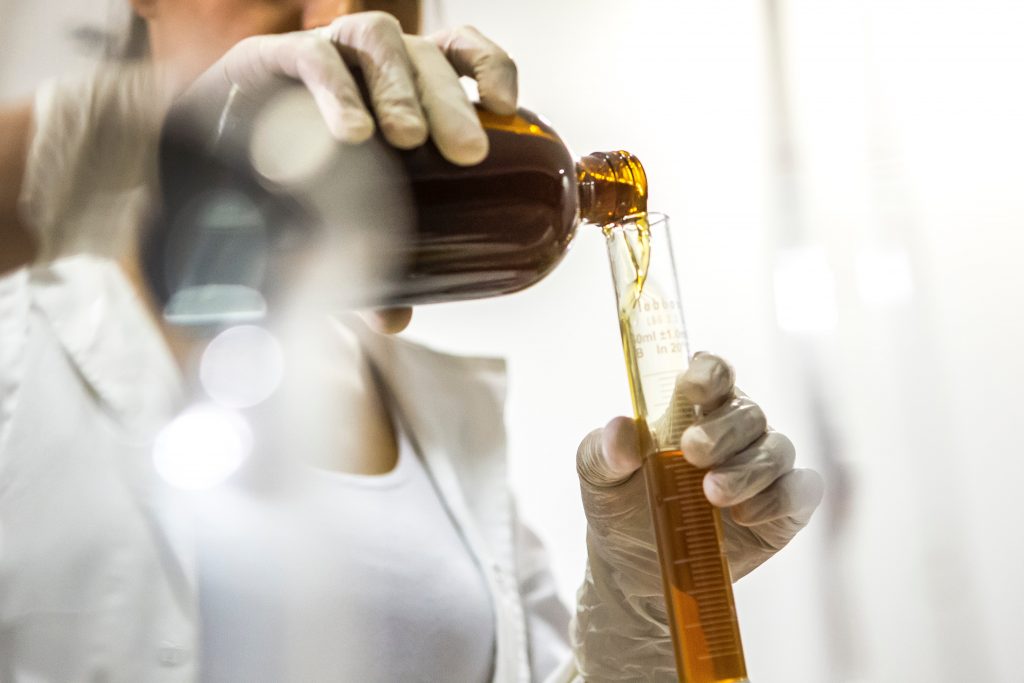 If you run a salon, or if you are thinking of starting your own beauty brand, you may be wondering what's best for your company – private label or contract manufacturing. Both are good options, depending on your goals, needs, and budget.
Private label pros and cons
Quicker and cheaper to get to market
Private label is a great option for many reasons. The overhead is lower, as the products you'll purchase are already formulated, in the bottles and tubes, and ready to go. Many private label manufacturers allow you to purchase as many, or as few, products as you want. That means you can start your company with a smaller budget.
You'll also be able to get the products more quickly. Some companies even offer same day shipping. That means you can hit the ground running right away.
Focus on branding and marketing
When you outsource product development, that means you can focus more on branding and marketing. Instead of taking time to make sure your product formulas work, you'll be putting your energy into refining your messaging and developing a brand that resonates with your customers.
Avoid issues with creating your own formulas
When you create your own formulas for your products, even with the support of a beauty manufacturer, you run the risk of those formulas not working. When you private label, you're buying products that have already been tested and proven to work.
Lots of options
There are many different types of private label manufacturers that specialize in everything from organic products to fragrances. That means that no matter what niche you would like to enter with your beauty brand, there is a private label manufacturer that will work for you.
Your products won't be unique
The downside is that your products won't be unique, as many other companies work with the same private label manufacturers. That means it's up to you to differentiate your products with your branding and marketing.
Private label manufacturers to consider
Skincare
Sarati Laboratories
Essential Wholesale & Labs
Hair Care
Ayari Cosmetics
McilPack
Cosmetics
MANA Private Label
Monave
Nails
Diamond Cosmetics
Innovative Color Labs
Soap
Vermont Soap
MoonDance Soaps
Contract manufacturing pros and cons
Unique products
Contract manufacturers will take your chosen ingredients and add them to one of their basic formulas. This means that your products will be unique but still based on formulas that have been proven to work. You can choose your own shades for your makeup or your own fragrances for your hair care products.
Unique products will help you differentiate yourself in the marketplace, which is becoming more and more crowded everyday.
The expertise of chemists
When you work with a contract manufacturer, you benefit from their chemists' expertise. You can create a product according to your specifications while knowing that it will be formulated correctly by expert beauty chemists.
More options than private label
When you work with a contract manufacturer, you have even more options than you do with private label. Because you're creating a product to your own specifications, you can choose from a much greater variety of ingredients, colors, and packaging options.
Longer wait times and larger order requirements
When you choose to work with a contract manufacturer to create your own unique product line, you'll be faced with longer waiting times and larger order requirements. You won't be able to order a line of products and receive it in a few days or weeks. Instead, you'll wait 6 weeks or longer to receive your products. You'll also need to commit to ordering more products, which means you'll pay more upfront and run the risk of not recouping your money.
Custom formula pros and cons
You own the formula
When you work with a chemist on a custom formula, you own the formula. That means you can continue to use it in your own facilities or with another chemist.
Completely unique
The products you create with a chemist are completely unique. Unlike contract manufactured products, they are based on a formula that only you have access to. While companies who work with private label or contract manufacturers need to differentiate similar products through marketing and positioning, your products will be one of a kind. You will still need to market and brand your products, but you'll have an edge because your products will truly be unique.
More labor intensive
Because creating a custom formula means starting from scratch, it is more labor intensive. You will need to work with the chemist to create a formula that works well. That means the products will have a stable composition and a fairly long shelf life.
More costly
Working with a chemist to create unique formulas is more costly than working with existing formulas and products. You will need to pay the chemist to help you formulate your products, and then you will also pay for the actual manufacturing of the products. Since your products are unique, they will cost more to produce, as well.
How to determine if someone is a good chemist
Find a chemist that specializes in your type of products
Different chemists specialize in making different types of products. For example, if you are launching a hair product line, make sure you find a chemist who specializes in hair care products. Check out the Chemists Corner Forum for help with finding the right chemist for your business.
Education matters
If a chemist has an advanced degree, they will be much more likely to have the knowledge and skill set you need to create completely unique products.
Check their references
How experienced is the chemist? You want to work with someone who had developed other beauty products in the past. Make sure to check their references and talk to former clients so that you end up with someone who has the expertise you are looking for.
Make sure they're in the Society of Cosmetic Scientists
In order to be in the SCC, cosmetic scientists must have adequate experience and a background in the sciences. Membership in the SCC also shows that a chemist cares about staying up to date with the latest cosmetic science research.
Don't pay for the entire job upfront
Be wary of chemists who want the entire payment upfront. Most chemists ask for 50% of the payment before beginning the project and 50% when your formula has been completed. Other chemists work on a per hour basis. This holds them accountable for delivering high quality work in a timely manner.
Set a clear timeline
Be sure that the chemist you hire is clear about when they will deliver your custom formula. You may be competing with larger projects for their time and attention, so it's essential that you get your timeline in writing and have a good idea about when your project will be delivered.
Can you develop and formulate your beauty products yourself?
It is possible to learn how to develop and formulate your own beauty products. However, learning to be a cosmetic chemist takes time and has a learning curve. You will need to ensure that your products are safe for use by consumers, that they have a long shelf life, etc. If your main interest is launching a beauty brand, you will be better served by working with a manufacturer and putting your time and energy into creating a dynamic brand and a successful marketing plan.
The bottom line
Both private label and contract manufacturing can be a good choice for your business. It just depends on your goals, your business plan, and your budget.
If you are just starting out and have a limited budget, you might want to start with private label, which will let you launch quickly and test your market, and then switch to contract manufacturing when you're more established. However, if you have specific ingredients you want in your products, you're already in business, or you're starting out with a larger budget, contract manufacturing may work better for you.
Want To Learn More?
Check out our course, Learn How to Launch a Beauty Product, where we cover every aspect of starting a beauty business. From creating a solid foundation and getting funding to manufacturing, branding, sales, and marketing, this guided approach keeps you on track and makes the process less overwhelming. To learn more about turning your beauty product ideas into reality, sign up for our newsletters and read more about the course here.