As you launch your beauty business, it's important to build an ongoing online marketing strategy.
Online marketing helps you reach more people. You can sell all over the world instead of just locally. Even if your business is brick-and-mortar, your target market is almost certainly online!
Having a good online marketing strategy will help you reach people in new ways, use your time efficiently, and build relationships with your customers.
Read on to find out more about how to set up an online marketing strategy for your beauty business.
Keep Track with an Editorial Calendar
Building an online presence requires creating a lot of new content. It's easy to get overwhelmed or lose track of what to work on next.
Using an editorial calendar will help you stay organized and see where you need to focus your energy. You'll use it to keep track of all of your content, including blog posts, social media, emails, podcast episodes, and YouTube videos.
Create a spreadsheet to keep track of types of content, dates, and team members who are assigned to each piece. Plan your calendar at least three months in advance. Don't forget to build in time for editing and revising, formatting, and adding images!
Ideally, you would have the content created well in advance so that you can schedule it ahead of time. This will lower your stress level, because you won't be creating content on the fly. It will also ensure that you publish content consistently, which is key for building a loyal audience and customer base.
You can use tools to help you pre-schedule social media and blog content, such as Later, Hootsuite, and Buffer.
Before putting articles on the calendar, create a launch and sales schedule for the next 6 months to a year. Look at the upcoming holidays and plan around them. When will you offer special prices and/or products? Put those dates on the calendar so that you know what you want your content to focus on at different times of the year.
You can also plan your content around specific themes, like springtime, romance, or any other themes that make sense with your business.
Email Marketing
You might have heard the phrase "email is dead." But that's simply not true. Email marketing is the most effective way to reach your customers. It also provides a great way to build relationships.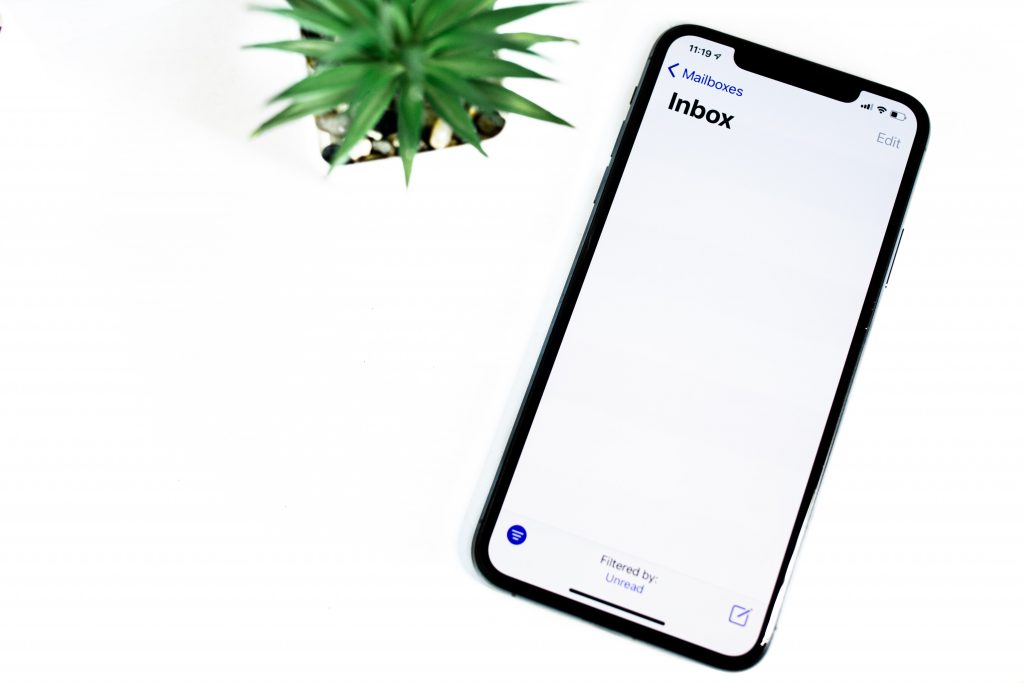 With social media, your content is ultimately not owned by you. If a platform closed down tomorrow, your content would be gone with it. Plus, social media platforms change their algorithms frequently. This can affect your exposure. But with email, you own your list and you don't have to deal with algorithms.
When you first launch your product, start growing your email list. Include a sign-up box on your website as well—offer discounts and deals to entice customers to sign up. You can also grow your email list by directing social media followers to landing pages.
Once you start growing your list, make sure to send emails consistently. You can set up launches or craft nurture sequences to lead customers to buy. Make sure to send out a regular email newsletter at least once a month. You want to stay on your customer's minds!
You can also use your email list to send out promotions and discounts, promote content, offer tutorials, and share upcoming news for your brand, such as press mentions or events.
Content Marketing
Online marketing doesn't have to be all about the hard sell. With content marketing, you create valuable content to build relationships with customers or establish your brand as an authority. It's a great way to stay connected with influencers and customers and attract new leads.
Putting out content also helps you strengthen relationships with existing customers. While finding new leads is important, you should also focus on the leads you already have. Studies have shown that your existing customer base is 80% more likely to buy from you than new customers are, so don't overlook your base!
Blog posts, videos, and podcasts are three popular types of content you can use for your brand. You can repurpose content to be used in multiple ways. For example, if you create a blog post on how to apply eyeshadow, you can use the same content to create a video tutorial.
There are many different types of articles, videos, and podcasts you can publish. Personal stories build trust and connection with your customers, tutorials invite people to buy your products. Expert interviews provide valuable content while building relationships with influencers. Round ups, or collections of advice from experts, also build relationships. Product guides highlight your products and make them come alive for customers.
Experiment with different types of content and see what brings the most engagement for your brand.
Social Media
Building a social media presence is very important for your beauty business. But it shouldn't always be about promoting your content. Your goal with social media should be to build relationships.
Make sure to spend time commenting and engaging with other people's posts. Invite your audience to engage with you on your posts by asking questions.
Your social media content can include inspirational stories, entertaining content, promotional posts, engaging questions and pools, or education for your audience. Play around with the different options at first, then stick with what works for you and your brand.
Affiliate Marketing
You can also choose to engage in affiliate marketing. Other people can sell your products in exchange for a percentage of the sales they bring in. It's a great way to expand your reach and make more sales while your affiliate team does the heavy lifting.
If you're interested in affiliate marketing, you'll want to set up an affiliate program to give links or custom codes to influencers and customers. You can even share sample posts and graphics that your affiliate team can use to promote your products.
Incentivize your affiliate team by holding contests to see who can sell the most of your products. Keep them in the loop on promotions and sales so they can share them with their followers.
Consistency is Key
There are many options for online marketing channels. It might be overwhelming to jump into everything at once. Start small, but experiment with different channels and methods.
When you figure out what works for you and resonates with your audience, make sure you do it every day. Consistency is key to building brand loyalty and enthusiasm!
Are you launching a new beauty brand? If you're just getting started with a beauty business and need more tips, Learn How to Launch a Beauty Product can help. It covers every aspect of starting a beauty business, from creating a solid foundation and getting funding to manufacturing, branding, sales, and marketing. Learn more about the course here.