One of the most important things you can do to succeed in business is create a profitable niche.
These 5 steps will help you create a profitable niche for a beauty brand, but the ideas are applicable to any brand in a crowded market.
Another way of thinking about your niche is asking, "What is my unique selling proposition" or USP? Your unique selling proposition is what makes you stand out in the market. You don't have to be first in your field – just offer a benefit or advantage that no one else does. 
Qualities of a Good Niche
Some of the qualities of a good niche are:
It appeals to a specific group/solves a specific problem
It aligns with you, your talents, skills, and values
It is well planned and thoroughly researched
It is memorable because it's unique and distinctive
Lynda Falkenstein, author of Nichecraft, warns: "Good niches don't just fall into your lap; they must be carefully crafted. Many entrepreneurs make the mistake of claiming they can do many things and be good at all of them. Smaller is bigger in business, and smaller is not all over the map; it's highly focused."
Finding a good niche for your beauty business isn't easy, but it can be done. Follow these 5 steps to find a desirable, unique niche that aligns with you.
Step 1: Create a Customer Persona
The first step in creating a profitable niche is figuring out who you want to sell to. You can't do business with everybody, especially if you are just starting out. If you cast too wide of a net, you will risk exhausting yourself and confusing potential customers. In short, the more specific your target market, the better.
Even large, successful companies have niches. For example, L'Oréal Paris is a mass market beauty brand. You can expect to find their products at a drugstore like CVS or Walgreens. But MAC, on the other hand, is an upscale brand. You can find it at stand alone stores or upscale department stores. Each brand has its own draw and its own target audience.
When your company becomes known to a specific group of people, customers will start coming to you instead of the other way around. Having a specific target audience will also help guide your decisions about what type of products to sell, which influencers to reach out to, and where to focus your marketing efforts.
Demographics and Psychographics
Demographics refer to statistical data about your customers. They are qualities like age, gender, location, income level, family type, education level, etc. Psychographics go a bit deeper. They are the values, interests, personality, and lifestyle of your ideal customer.
In order to deeply understand your ideal customer, you must look at both demographics and psychographics.
While demographics help you narrow down your persona initially, psychographics are where you get a lot more specific and create clarity around your customers and what they need and want.
Answer these questions to gain clarity and narrow down the persona of your ideal customer.
Demographics
What is your customer's…
Age
Gender
Marital status/family size
Income level
Education level
Location
Language
Psychographics
As you look at these questions, think about how they apply to you as a beauty brand. What do your customers care about when it comes to cosmetics? Are they conscious about wanting to use organic products? Do they care more about high fashion and name brands? Are they more likely to resonate with a company that has limited edition products because they want to be unique? Take your time to dig in and think deeply about these important questions.
What is your customer's…
Worldview
Passions
Needs and wants
Pain points
Spending habits
Beauty-specific questions
While any business benefits from answering questions of demographics and psychographics, as a beauty brand, you have a unique opportunity to narrow down your ideal customer persona based on their specific beauty needs. For example, Ouidad and Deva Curl have made very successful businesses by targeting women with a specific feature – curly hair.
What is your customer's…
Hair-type
Hair color
Skin type
Skin tone
Body type
What features do they struggle with the most? (i.e. they have light eyebrows, short eyelashes, etc.)
Look at your answers to these questions and use them to create a customer persona, or a profile of your ideal customer. You may even want to create an imaginary person to whom you are marketing.
An example of a customer persona:
Sue is a woman in her mid-50s who lives in suburban Ohio. She has 2 teenagers who are both in high school. Her household income is $100k-$150k. Sue works at a law firm as a secretary. She has straight, thin blonde hair and dry skin. She is a runner who wants to be able to wear makeup when she goes out for her morning run. She wants something that is easy to apply and won't come off when she sweats.
Do you see how specific that persona is? You can picture Sue and what type of beauty products she likely looks for. Now it's your turn. Create a customer profile, or a few, for your business.
Step 2: Identify Your Unique Skills, Talents, and Angle
Once you've identified your ideal customer, it's time to do some thinking about yourself. You just learned as much as you could about your ideal customer, and it will benefit you to learn as much as you can about yourself, as well.
Questions about you:
What are 3 of the adjectives people use the most when talking about you?
What are your top 3 to 5 values?
What are your passions?
What problems drive you crazy?
What accomplishments are you most proud of?
What is your unique approach to problem solving?
A strong niche comes from the intersection of your unique values, passions, and strengths, as well as your customer profile. When you start writing down ideas about yourself and what makes you unique, you will see some natural intersections. Jot down niche ideas as they arise. You may be surprised what you come up with.
Examples:
If your friends always ask you to do their eye makeup before you go out, maybe you can specialize in eye makeup and creating distinctive nighttime looks.
Were you obsessed with your grandmother's vintage makeup as a kid? Maybe you want to create a 1920s inspired brand.
Do you have crazy curly hair that you've spent years taming? Think about creating a curly hair brand.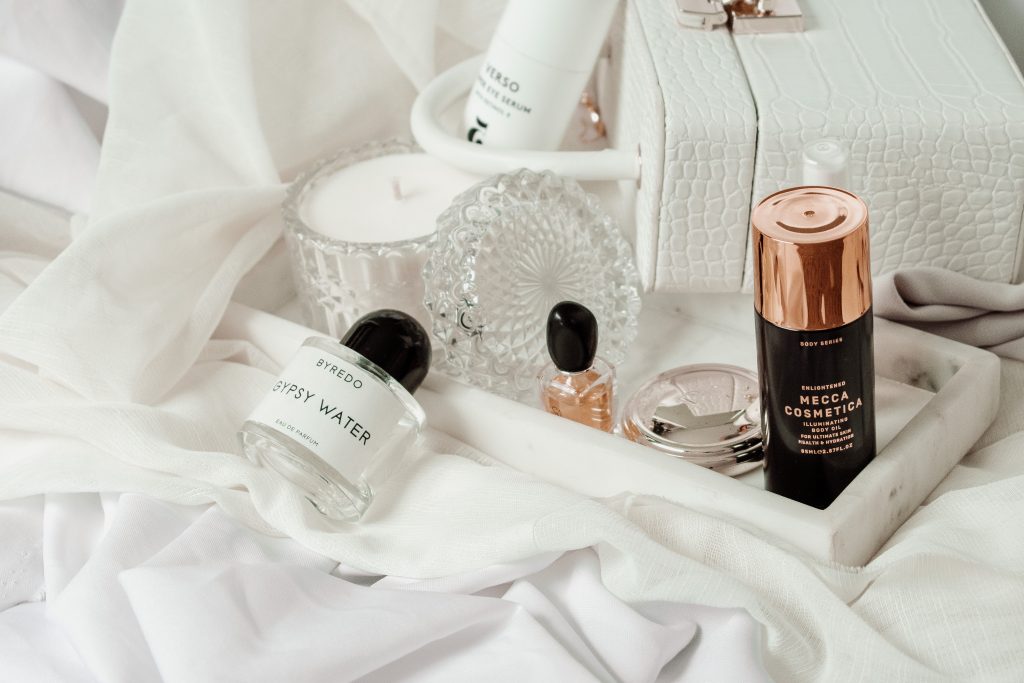 Step 3: Decide What Kind of Brand You Are
Within the beauty industry, there are different categories of brands. Your ideas from the last 2 steps will help you decide which category you want your brand to be.
Types of Beauty Brands
Value brand
Mass-market brand
Luxury brand
Value brands:
Compete on price
Are for customers who want something cheap and accessible
Are sold in drug stores and grocery stores
Mass-market brands:
Are middle of the road when it comes to price
Are for customers who want good products but don't want to pay a premium
Are sold in department stores
Luxury brands:
Are pricier than other brands
Are for customers who want the best of the best
Are sold in stand-alone shops
Where will your brand fit into the marketplace? Is your ideal customer someone who cares a lot about quality, or do they want something quick and cheap? Where do you want your product to be sold? Your brand category will determine the type of manufacturer you use, how you present your product, and a lot of other decisions you will make about your brand.
Step 4: Strategize on How to Make Your Product Distinctive
"Most of the easy-to-solve problems in the cosmetic industry have already been solved. Unless you work for a large company that has a basic research wing you will not likely be able to solve the significant problems like wrinkles, acne, hair loss, hair growth, etc. However, you can solve some of the easier problems that niche markets experience." – Chemist Corner
If you step into a Sephora, you'll notice an ocean of beauty products. It's essential for you to make yours distinctive if you want to stand out. But how can you position your product in a crowded market? Here are a few things to think about when it comes to making a distinctive product.
Differentiate your products based on your values
Your values can help your product stand out on a packed beauty product shelf. Whether it's your product components or what you do with your profits, there are many ways to make a values-driven product. For example, you could donate a portion of your proceeds to a worthwhile cause or use recycled components in your packaging.
Solve a very specific problem
Most of the problems in the beauty industry have already been solved, so you'll need to get creative. This goes back to your ideal customer. Tap into an underserved niche and become an expert on their needs, wants, and problems. For example, can you serve women who love fragrance but have very sensitive skin? Or men who want to look great but don't want to look like they're wearing makeup? The more specific you can get, the better.
Identify an opportunity gap
To identify an opportunity gap, ask "What can I do differently or better than what everyone else is currently doing?" An opportunity gap may exist in improving a product, in finding an untapped market, or even in marketing more creatively than your competitors.
Step 5: Test Your Niche
Before you do a big launch of your products, give customers a chance to buy it. You can do this by offering samples or by doing a minimum order quantity. Doing this will help you see customer reactions to your product. You'll gain valuable insights on the viability of your niche a product and be able to pivot or change your positioning without losing a lot of time and money.
Finding a niche for your beauty brand isn't easy, but it's one of the most important steps to launching a successful company.
A success story…
In 2014, Emily Weiss started her beauty company, Glossier. It has since been profiled by Entrepreneur and Forbes, and been named a top beauty brand by Allure, Cosmopolitan, and Glamour, among others.
Glossier grew out of Weiss's blog, Into the Gloss, and its success has largely come about because of its unique niche. Their tagline, "Beauty products inspired by real life," informs all of the brand's decision.
Glossier launched with just four products, all of which were targeted toward simple skin care. They were inexpensive, filling a need for high quality, low priced products. The packaging was designed to be simple but Instagram-friendly – each bottle came with a sheet of emoji stickers, so that customers could customize their products and then share them.
When Weiss launched Glossier, the beauty industry was already saturated, but by listening to customers and paying close attention to what competitors were doing, she was able to create a unique, profitable niche. She told Entrepreneur in 2017 that the company's revenue had grown by 600% year over year.
You can find a profitable niche for your beauty brand, too – or make your business more profitable by niching down effectively. The 5 steps in this article will help you get closer to that profitable niche.
To recap, the steps are:
Create a customer avatar
Identify your unique passions, skills, and values
Decide what kind of brand you are
Strategize on how to make your product distinctive
Test your niche
Are you launching a new beauty brand? If you're just getting started with a beauty business and need more tips, Learn How to Launch a Beauty Product can help. It covers every aspect of starting a beauty business, from creating a solid foundation and getting funding to manufacturing, branding, sales, and marketing. Learn more about the course here.
Are you looking for a designer to make your packaging stand out? Schedule your free 30 minute consultation today.